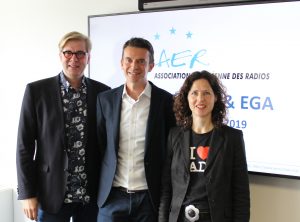 The Association of European Radios (AER) today elected at its extraordinary General Assembly, Matt Payton (Radiocentre, UK) as new AER Secretary General, and Daniela Beaujean (VAUNET, Germany) as new Executive Board Member. Matt Payton takes over from Julia Maier-Hauff (VAUNET, Germany) who is leaving VAUNET to head for new challenges. As Secretary General, he will help guide the lobbying and public affairs work of AER and work alongside Policy Officer Marie-Pierre Moalic, Association Manager Francesca Fabbri and President Stefan Möller on policy and communications.
Stefan Möller, AER-President and CEO of Radiomedia Finland thanked Julia Maier-Hauff for her excellent management of the association and said: "'Julia has established AER as a well-known brand for the EU institutions and made AER´s membership grow. We wish her all the best for her future career and her personal life. I would like to congratulate Matt on this new role and I look forward to working alongside him as the media landscape of Europe continues to evolve."
Matt Payton said: "It's a real honour to take on this role, particularly at a time of such enormous change for radio across Europe. Whatever happens with Brexit in future, it is going to remain crucial to be able to work together with our colleagues in other countries, as we continue to face many similar challenges and opportunities. I'm especially grateful to Julia, who has been instrumental in helping to build the reputation and effectiveness of AER to this point."
Julia Maier-Hauff, was sincerely thanked by the Executive Committee Members for her incredible contribution to the growth of AER.  She said:" It has been a great pleasure to work for AER under a fantastic president, with a great Board and office team. Every minute with AER has been rewarding. I wish the new team a lot of success. Radio will always be part of my life."
– ends –
About AER
The Association of European Radios (AER) is the voice of commercially-funded radios in Brussels, a Europe-wide trade body representing the interests of over 4,500 private/commercial radio stations across the EU28 and in Switzerland.
More information about AER at http://www.aereurope.org  and @AEReurope.