Radio is still hugely popular with 85% of EU citizens listening each week for an average of 2 hrs 22 minutes a day. Most radio listening is on broadcast platforms like FM and DAB+, but the way people listen to radio is changing and an increasing amount of listening is now on online platforms and connected devices like smart speakers.
Radio needs to be available universally on all these platforms so that listeners can continue to receive the entertainment, music, news and information that it provides. This will involve a combination of broadcast and online platforms, including their radio station apps or web players along with third-party aggregators like TuneIn.
Radio remains the biggest part of audio listening but faces particular pressures from tech giants and aggregators that are increasingly powerful. These issues and the need for a fair and balanced framework will be of particular interest to the EU and its media agenda.
AER organises its annual conference to gather an influential audience from the European institutions, media companies, tech companies as well as associations, to discuss some of the critical issues facing radio and audio across Europe.
The AER 2019 Conference – AUDIO REVOLUTION: RADIO'S FUTURE IN AN AGE OF TECH GIANTS will focus on the importance of online platforms for the future of radio and the challenges and opportunities this creates.
The AER 2019 Conference is sponsored by MPN – Musik Promotion Network.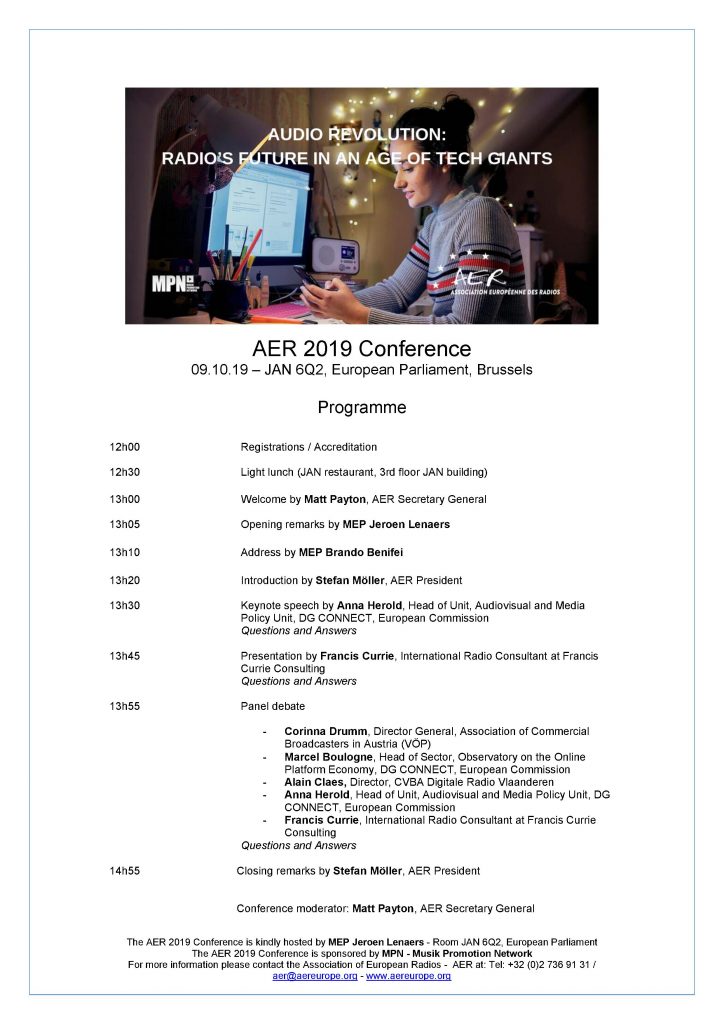 To register, please contact aer(Replace this parenthesis with the @ sign)aereurope.org.