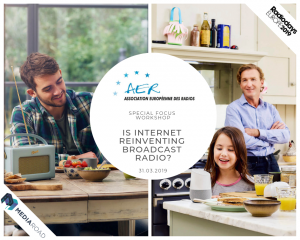 AER will organise a workshop on March 31st, from 2pm until 4pm, at Radiodays Europe, the most important annual conference for radio professionals in the world, which will be held on March 31st – April 2nd, 2019, in Lausanne, Switzerland, @ SwissTech Convention Center, EPFL campus.
The workshop, called "Special Focus Workshop", will be featured in Radiodays Europe's Sunday activities' programme. This Special Focus Workshop is organised by the AER within the framework of MediaRoad, the EU-funded project aimed at helping Europe's media sector revamp the way it approaches innovation by shaping future research and policy priorities as well as by strengthening collaboration between media organizations and start-ups. MediaRoad has received funding from the European Union's Horizon 2020 research and innovation programme under grant agreement No 761412.
Stemming from the idea that radio will remain broadcast for the foreseeable future, AER Special Focus Workshop focuses on how internet is now showing its full use for (broadcast) radio by
complementing a shared experience via a robust network (broadcasting) with tailored information, thanks to the data provided anonymously by each listener,
multiplying one-to-many communication with 5G for broadcasting,
bringing real time new content innovation and business models with Artificial Intelligence.
AER Special Focus Workshop explores, in a series of three sessions, the most recent innovations driving the change in the radio industry:
the latest developments of HRADIO, creating exciting new radio services to deliver time and location independent listening experiences, smartly combined with personalized and on-demand content, leveraging the full potential of hybrid technology for radio; the state-of-art on the MARCONI project, the integrated platform for enhanced interaction between radio makers and listeners, bringing radio experiences to the next level;
5G for broadcasting, how it works, and can or cannot complement broadcast radio in a faster and more efficient manner than the current available technology;
Artificial Intelligence, what it is, some of its present and future applications in audio, and how it allows for the creation of new business models for radio.
PROGRAMME
13.30 – 14.00  Registration, welcome and opening remarks
AER President Stefan Möller, RadioMedia
14.00 – 14.30 Testing the future of Hybrid Radio: the latest developments on HRADIO and MARCONI projects
Alexander Erk, Sen Engineer, Head of Media Services and Applications – IRT, the Institution for Broadcasting Technology
Floris Daelemans, Radioactive Researcher – VRT
14.30 – 14.40  Questions and answers
14.40 – 15.10  5G for broadcasting: yet another disruption in the media industry?
Rüdiger Landgraf, Programme Director – KRONEHIT
Martin Holovlasky, Head of New and Digital – KRONEHIT
15.10 – 15.20  Questions and answers
15.20 – 15.50  Demystifying AI and some applications to audio
Benjamin Ricaud, Researcher – Signal Processing Laboratory 2, Ecole Polytechnique Fédérale de Lausanne (EPFL)
Robert Förster, Founder & Chief Executive Officer – Multicast Media GmbH
15.50 – 16.00  Questions and answers
16.00 – 16.05  Closing remarks/ end of session
Moderator: Nick Piggott, Project Director, RadioDNS Project