Based on discussion at session hosted by Radioplayer at Radiodays Europe – 27 March 2023
The in-car entertainment experience is seeing unprecedented change driven by internet connectivity and new technology. In amongst the tsunami of new apps and services, Radio remains the most popular audio source in the car. How can broadcasters stay in control of the radio experience and keep radio strong? Can Radio stay prominent as an important source of news and public value? And what technologies and features will form part of Radio 2.0 in the car?
Speakers:
Laurence Harrison, Director of Automotive Partnerships, Radioplayer
Alexandra Daskalopoulos, Founder & CEO, Frontstage SA (Greece) and member of the AER
Laurent Frisch, Head of Digital & Production / Chief Digital Officer, Radio France
Tomas Granryd, Head of Digital Partnerships, Swedish Radio
Moderated by: Matt Deegan, Creative Director, Folder Media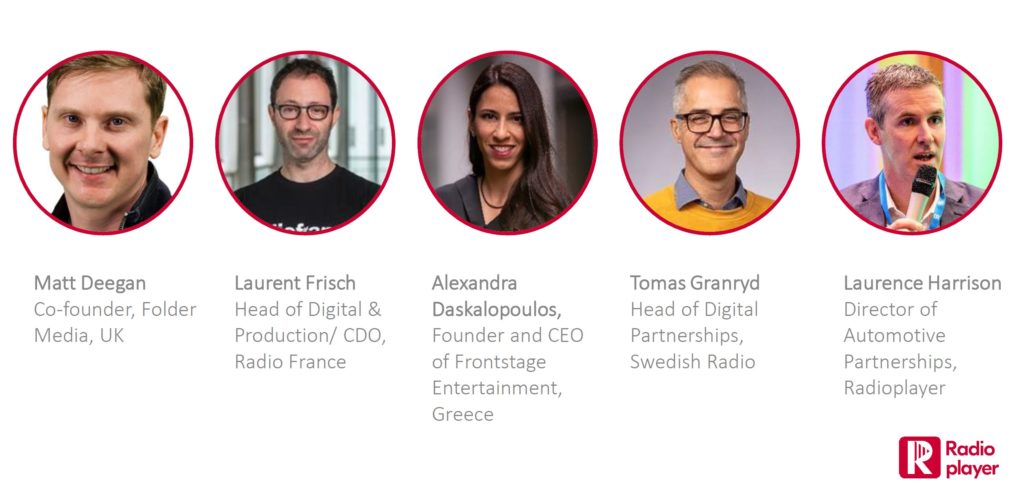 Photo by @Radioplayer
The industry is facing common challenges, mainly changes in digital listening and changes in in-car listening, the focus of the session 'The future of radio in-car: The power of partnerships' hosted by Radioplayer.
The discussion was kicked off by Laurence Harrison, Director of Automotive Partnerships with Radioplayer (backed and supported only broadcasters) and how important is the partnership with the car companies to help secure a place for radio in the car dashboard of the future. These collaborations are so crucial to keep radio strong in-car. Radioplayer's automotive partners are several and growing: Harrison announced a new hybrid radio partnership, Renault group – 3rd largest car manufacturer in Europe and Radioplayer is official broadcasters' metadata will be powering a hybrid radio experience in their car in the future. This means that Radioplayer now covers over 40 % of the European car sales.
Looking ahead and at the characteristics of the future radio in car should have:
Simple: imperative to retain the simplicity of radio, the ability to very easily access the station a listener wants to listen to;
Personalised: Radioplayer already offers a recommendation algorithms;
On demand: Radioplayer will want to offer on-demand content like podcasts and catch-up shows alongside live radio;
Seamless experience: that could be switching between platforms (Cariad currently does that) or radio broadcaster's mobile app integrating with broadcast radio experience in the car;
Voice has to be perfect and Radioplayer is working in it;
Opportunities to get much deeper engagement with the stations' brands with the technology that has been offered today.
Laurence Harrison confirms that car manufacturers welcome a single point of contact on behalf of the radio broadcasters and Radioplayer is seeing now, more than a couple of years ago, more interest in hybrid radio which should be the base level experience for all broadcasts and Radioplayer enables a great hybrid experience through their Radioplayer worldwide API. According to Harrison, because of the the APY system offered by Radioplayer and the advent of connected cars, there is an increased focus on connectivity and apps among car companies. However, it is important to continue talking about hybrid and broadcast radio as the most used source of audio in the car, which Radioplayer has done research on together with WorldDAB.
Alexandra Daskalopoulos, Founder & CEO of Frontstage SA (Greece) and AER Executive member confirms that "radio in the car is under attack: radio has always been centerstage in the car, literally right in the middle of the dashboard. Now that position is starting to change.
One of the biggest threats industry-wise was when the iPhone just removed the FM receiver from its features, that shows how big tech can just obliterate radio from distribution channels overnight. At first, we fought back as radio stations by creating our own apps, or joining aggregator apps we didn't control or got revenues form or didn't control the branding. And if that happened with phones then it can easily happen with cars.
We have seen how most new cars have removed AM from their options and Tesla cars don't have radio installed by default, you have to choose the radio upgrade package. This all demonstrates the power of tech to control distribution of our own medium. In order to defend radio's place at the table, scale is key.
There is strength in working together: not just commercial radio stations among themselves, but also commercial radio stations with public service radios and with platforms like Radioplayer that are common across different countries and associations like the AER who helps and facilitates this collaboration.
Greece was the most recent country to join Radioplayer. And it wasn't easy getting here. In Greece the debate was about creating our own aggregator platform versus joining Radioplayer. And we chose Radioplayer because of a) the platform which is appealing, easy to use and develops fast along with technology advances but b) most importantly because of the lobbying and collaboration that it offers. It's different if each radio group tries and lobbies with car manufacturers by themselves and much more efficient and effective when we speak with one voice, when the platform we all support in many countries lobbies to have the Radioplayer app preinstalled in all new cars, recognised by smart speakers, etc, as part of its job.
In Greece, the shareholders of the companies that brought Radioplayer in, were commercial radios and that is because commercial radio in Greece is much bigger than the public service, which is not the case in many other countries. We started off because we have scaled among commercial radio stations and now we are going to have the public service radio joining as well.
The two main obstacles we saw before joining were: why should I invest? Will I make more money? And the answer was not about the money but on how to invest in your online streams, in your transmitter equipment for FM, it is just another source of distribution you need to invest in, and the most important one. It may generate some revenue down the line but it is not about that – it is about being everywhere, and especially in cars and that is why it is important to collaborate.
The second concern everyone had was: if I put my radio station next to other radio stations of the same genre and they are all grouped together, then there will be even more competition. And the answer was that if you have a listener that goes to another radio station, you would still have a radio listener, but if that listener goes to Spotify instead you have lost that radio listener to another technology.
In Greece we do not have national radio stations, so with connected cars we will be able to transmit all over the country, which is a great benefit. Given how much radio listening happens in cars in most markets, which for Greece the numbers are 55% of daily listening occurs in cars and that number is 70% in morning show and 72% in the drive time shows, protecting and developing that in-car listening is even more important.
According to research (Edison) today shows that more than 80% of people planning to buy a car are less likely to do so without a radio in it and that 89% of car buyers rank radio as the top feature, more so than online music services, Apple's Carplay or Android Auto. So, the first priority for the industry – commercial and public service – is to protect and grow radio – its reach and market share as a medium. We will do that better if we work together with projects such as RadioPlayer, so we continue to have our seat at the table."
More information about Radiodays Europe at www.radiodayseurope.com
AER is an official partner of Radiodays Europe.